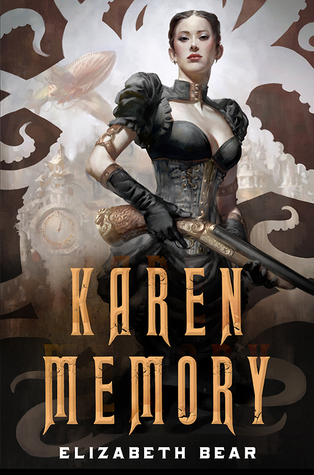 If you are looking for the literary unicorn that is the combination of "excellently written" and "Loads of fun" you have found it.
Bear refers to this as a "weird western;" you could also consider it an SF/F novel told in dime novel style (dime novels figure heavily in the narrative and the frame, huzzah! says the dime novel curator) or as steampunk. It works very, very well as all of these.
It also works very, very well as an alternate universe version of the Firefly episode "Heart of Gold" where all of the prostitutes save themselves and take down the establishment with souped up sewing machines and a whole lot of savvy.
It works very well within its themes of found family, western adventures, and protagonists who have feelings and histories and those things bring them together but sometimes cause problems that they need to navigate while saving Rapid City from the evil dude running for mayor.
It works very well with characters who get together, and characters who don't, and figuring out just how to navigate all those emotions when talking about prostitutes and marshalls and miners and the like.
It works very well as a tale of people who are deeply intelligent and talented figuring that out and leveraging those skills in often less than ideal circumstances.
It works very well as a tale of derring-do, with airships and fires and jailbreaks and submarines and heists and rescues.
Really, it just works very, very well. So you should read it.
Full disclosure: Bear is a dear friend.