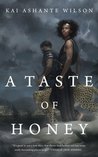 A Taste of Honey by Kai Ashante Wilson
My rating: 4 of 5 stars
Excellent novella. Stands alone quite well–I had not read the first one yet, but this story was totally understandable as it is. A kind of sweet, thoughtful, meditation on paths-not-taken, particularly in relation to the choices that will make us happy vs. the choices we feel we must make based on socialization.
This is an unabashedly queer story, in the best possible way. Beautifully written, strong characterization, and really interesting worldbuilding. Recommended.